Termite Control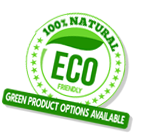 WDI REPORTS / TERMITE INSPECTIONS
Do you need a Wood Destroying Insect report for a real estate transaction? This report will note any present or previous infestations of WDI and any conducive conditions that exist on the structure. The reports are typed and complete with pictures showing any areas of infestation, prior termite treatments and conducive conditions. We are licensed and capable of performing this service.
TERMITE TREATMENTS
Are termites a concern for you as a homeowner? Termites are plentiful in our area and are always looking for more ways to take a bite out of the wood in your home. We offer a number of options for termite control.
Bait Treatment - In-ground bait stations that can be checked and replenished once a year. These stations are capable of eliminating an entire colony of termites thus eliminating the threat. This service is offered by itself or as a part of our Home Basic Plus plan.
Soil Treatment (partial and full) - A trench is dug around the perimeter of the home and termiticide is sprayed into the soil then the soil is replaced. Termiticide is also injected below the interior slab around plumbing fixtures and exterior slabs such as driveways and porches. This will eliminate an active termite infestation of the home and will prevent future termite infestations.
Wood Treatment - On a home that has already been built wood injections, foams or bait stations can be used by injecting or installing them directly into walls to control termites.
Concerning carpenter ants, through any of our home pest control plans we limit access into your home so that carpenter ants cannot easily gain entry. Yet, if they are able to enter, we apply a bait that they take back to the colony and within a few days the colony is eliminated or if we can find the colony, we eliminate them directly.
TERMITE PRE-TREATMENTS
Do you need a termite pre-treatment for a home or commercial build you are performing? We are licensed and capable of performing this service using one of two methods.
Soil pre-treatment is a one-step or two-step process depending on the builder's needs. First step is to spray all the soil under the slab of the house before the plastic barrier is laid and the slab is poured. The second optional step is to dig a trench around the perimeter of the home after it has been finished and landscaped, then add chemical to the soil and replace the soil.
Wood treatment is performed in one step when the home is being built. While the home is "dried in," right before insulation, the exposed wood is sprayed with a surface application of borate 2' up from the slab. This protects against termites, wood rot and mildew.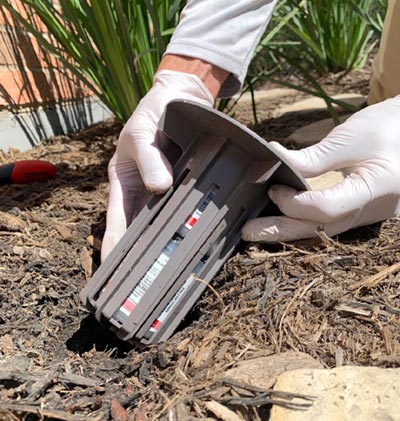 Bait System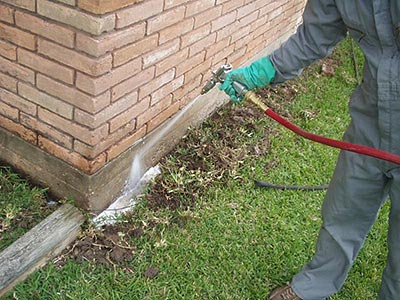 Soil Treatment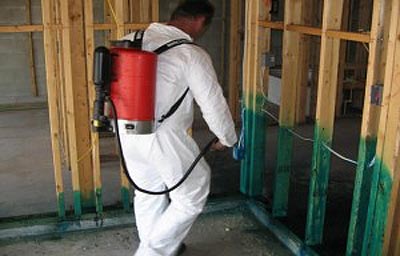 Wood Treatment
Termite Control offered in
:
College Station, TX
Bryan, TX
Brenham, TX
Montgomery, TX
Madisonville, TX
Caldwell, TX
Hearne, TX
Giddings, TX
Bellville, TX
Burton, TX
Anderson, TX
Iola, TX
Washington, TX
Wellborn, TX
Millican, TX
Kurten, TX