College Station Termite Control
The thought of termites can instill fear in the hearts of homeowners and business owners, especially in Texas, where termite problems abound. Texas is home to seven of the top 50 cities with the worst termite trouble. As a Texan, you probably love the climate. Unfortunately, subterranean termites do, too. They are notorious for causing destruction to homes and other structures.
Termites can also cause damage to businesses and create health and safety issues for employees and customers. That's why working with a licensed and experienced pest control company is necessary.
Seek professional help from Backyard Comfort & Pest Control. We provide inspections, treatment, and long-term pest control. Contact our College Station pest control company today to get your home or business pest-free.
WDI REPORTS / TERMITE INSPECTIONS
Do you need a Wood Destroying Insect report for a real estate transaction? This report will note any present or previous infestations of WDI and any conducive conditions that exist on the structure. The reports are typed and complete with pictures showing any areas of infestation, prior termite treatments and conducive conditions. We are licensed and capable of performing this service.
TERMITE POST-TREATMENTS
Are termites a concern for you as a homeowner? Termites are plentiful in our area and are always looking for more ways to take a bite out of the wood in your home. We offer a number of options for termite control.
Bait Treatment - In-ground bait stations that can be checked and replenished once a year. These stations are capable of eliminating an entire colony of termites thus eliminating the threat. This service is offered by itself or as a part of our Home Basic Plus plan.
Soil Treatment (partial and full) - A trench is dug around the perimeter of the home and termiticide is sprayed into the soil then the soil is replaced. Termiticide is also injected below the interior slab around plumbing fixtures and exterior slabs such as driveways and porches. This will eliminate an active termite infestation of the home and will prevent future termite infestations.
Wood Treatment - On a home that has already been built wood injections, foams or bait stations can be used by injecting or installing them directly into walls to control termites.
Concerning carpenter ants, through any of our home pest control plans we limit access into your home so that carpenter ants cannot easily gain entry. Yet, if they are able to enter, we apply a bait that they take back to the colony and within a few days the colony is eliminated or if we can find the colony, we eliminate them directly.
TERMITE PRE-TREATMENTS
Do you need a termite pre-treatment for a home or commercial build you are performing? We are licensed and capable of performing this service using one of two methods.
Soil Treatment is a one-step or two-step process depending on the builder's needs. First step is to spray all the soil under the slab of the house before the plastic barrier is laid and the slab is poured. The second optional step is to dig a trench around the perimeter of the home after it has been finished and landscaped, then add chemical to the soil and replace the soil.
Wood Treatment is performed in one step when the home is being built. While the home is "dried in," right before insulation, the exposed wood is sprayed with a surface application of borate 2' up from the slab along with plumbing entry locations and bath traps. This protects against termites, wood rot and mildew.
TERMITE PREVENTION
The best protection against termites is prevention. Prevent termites from getting into your home in the first place by doing the following:
Reduce soil-to-wood contact around your home or business. Remove all lumber, wood, and cardboard from the building's foundation. Keep firewood at least 20 feet away and make sure wood siding is at least 6 inches off the ground.
Remove food sources. Termites love wood and paper products, so keep these food sources away from your home. Get rid of newspapers, cardboard boxes, dead trees, and rotting wood.
Keep plants away from your home. Plants can provide pathways for termites to get into your home. Keep grass and shrubs near your home trimmed.
Reduce moisture. Termites love moisture, so keep the area around your home dry. Check for leaks around the home. Ensure water from gutters and downspouts are flowing away from the building.
Seal gaps. Some materials — like wood, concrete, and metal — shrink and expand at different rates over time. This settling process can cause gaps and cracks that can make it easy for termites to get in. Use caulk or foam sealant to fill in these gaps. Use steel polymer to fill in the weep holes that go around the house as well.
Keep soil level at the foundation. Make sure that at least 3" (if not more) of your foundation is visible. If not then it is much easier for termites to enter your home by easily accessing through the weep holes.
GET HELP TODAY
Termites and other pests can wreak havoc on your home, yard, or business. When you need pest control in College Station, choose Backyard Comfort & Pest Control. We offer a variety of services to eradicate termites and other pests and help you feel comfortable at home, at work, and in your yard. Schedule an inspection today. We promise you'll be satisfied with our service.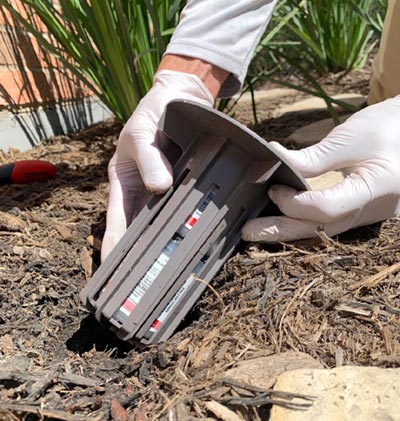 Bait System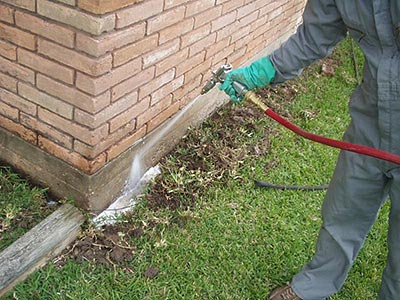 Soil Treatment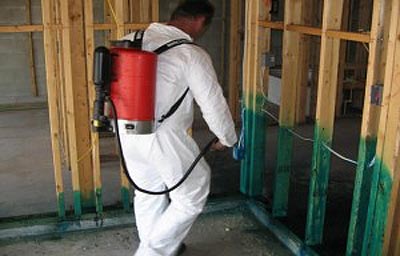 Wood Treatment
Termite Control offered in
:
College Station, TX
Bryan, TX
Brenham, TX
Montgomery, TX
Madisonville, TX
Caldwell, TX
Hearne, TX
Giddings, TX
Bellville, TX
Burton, TX
Anderson, TX
Iola, TX
Washington, TX
Wellborn, TX
Millican, TX
Kurten, TX