College Station Mosquito Control
Mosquito Spray
Mosquitoes are a real nuisance and in Texas, they are prevalent all year long. You may want to employ some mosquito control measures in your yard so you can enjoy your backyard barbecues once again. However, there are many more reasons mosquito control is so important. Below, our College Station mosquito control experts explain more about the importance of mosquito control, why DIY measures do not usually work, and what does.
Why is Mosquito Control So Important?
Proper mosquito control can help reduce the number of itchy, red bites you may suffer when going outside. However, there are many other reasons mosquito control is even more important.
The main reason mosquito control is so crucial is to protect the health and safety of you and your family. Mosquitoes are known carriers of many diseases, and they can spread those diseases to humans with just a single bite. Some of the deadliest diseases mosquitoes spread include dengue-hemorrhagic fever, yellow fever, and malaria.
In years past, dog heartworm, multiple types of encephalitis, and West Nile Virus were some of the most common diseases transmitted by mosquitoes in the United States. While these are still prevalent, today, Chikungunya, Dengue fever, and the Zika virus are more common. Approximately one million people around the world die every year from mosquito-borne illnesses. The only way to prevent yourself and your loved ones from contracting these ailments is to reduce the number of pests in your yard with proper mosquito control.
Issues with DIY Mosquito Control
Many people are reluctant to hire a professional mosquito control service because they think it is too costly. They also believe they can combat the pests on their own. Unfortunately, these measures are not the best way to get rid of mosquitoes in your yard.
Citronella candles, bug zappers, and DIY sprays are some of the most common ways people try to take care of their mosquito problem on their own. These methods partially effective. Candles are not enough to deter mosquitoes from entering a yard, and they are only effective when they are lit, which is often sporadically. Bug zappers, on the other hand, only eliminate a very small portion of a mosquito population. Do-it-yourself sprays repel them but do not ultimately control mosquitoes over the long term.
To effectively get rid of a mosquito problem, it is always best to hire a professional. Our College Station mosquito control experts can save you the cost and stress of doing it yourself.
Try Our Mosquito Spray for Free
WE OFFER A FREE MOSQUITO SPRAY JUST SO YOU CAN TRY IT OUT! This offer is good for any customer within the city limits of Bryan/College Station. For any customer outside of the city limits, regular mileage charges will apply.
This application is designed to create a barrier around your property without any lingering chemical odors. An insecticide is applied using a backpack mist blower to mosquito resting areas in your yard using a solution that controls mosquitoes in four different ways:
Immediate flushing and knock-down effect
Does not allow insect to become immune to active ingredients
Systemic time released insecticide
If they live, they will not mature into reproducing adults
We will also apply a solid and/or liquid larvicide to potential breeding areas as needed. Our mosquito spray service comes with a 21 day guarantee. This can be scheduled (1) as a one-time special event application, (2) as a seasonal service such as April – October or (3) as an add-on to any of our Home Pest Control Plans. These services do not require contracts or long-term commitments.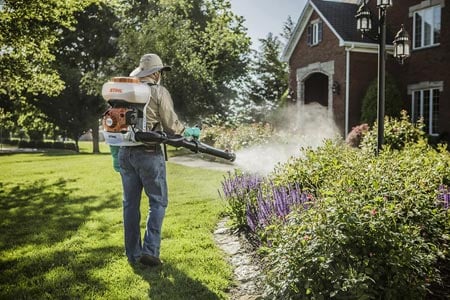 ---
Mosquito Bait Station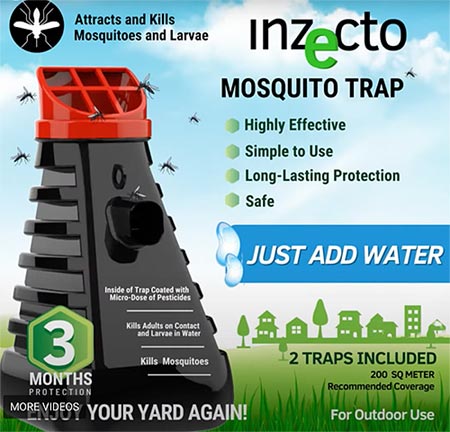 Do you want to control the mosquito population without using any insecticide in your yard or as a supplement to our mosquito spray treatments? The INZECTO Mosquito Trap is an effective tool to significantly decrease the mosquito population in your yard. Each unit lasts for 90 days and each yard should have a minimum of two units since female mosquitoes lay all their eggs in multiple locations. The units are replaced and refilled every three months by one of our technicians. Two service visits a year are typical for a residential or commercial account during mosquito season.
INZECTO Mosquito Trap Features:
Designed to attract the female mosquito (the males do not bite)
Activated by adding water
Color of trap and stagnant water odor attract mosquitoes
Perceived food source within trap causing female mosquito to lay her eggs into water
Side ridges create a shelf or landing space
Each side ridge has the perfect amount of texture to appeal to mosquitoes
Appealing to container and non-container breeding mosquitoes
Provides an ideal resting place for mosquitoes (rough ridges of the trap, high humidity and low airflow)
After touching the walls of the trap the mosquito will die
After laying her eggs in the water, they will not develop into adults
Call Our Mosquito Control Experts in College Station Today
If you have a mosquito problem, you need professional help. At Backyard Comfort & Pest Control, our College Station mosquito control experts can inspect your property and devise a strategy to help you eliminate the pests once and for all. Call us now at (979) 324-3223 or contact us online to schedule a consultation and to learn more about how we can help.
Mosquito Control offered in:
College Station, TX
Bryan, TX
Brenham, TX
Montgomery, TX
Madisonville, TX
Caldwell, TX
Hearne, TX
Giddings, TX
Bellville, TX
Burton, TX
Anderson, TX
Iola, TX
Washington, TX
Wellborn, TX
Millican, TX
Kurten, TX