Backyard Comfort Blog
What is IPM?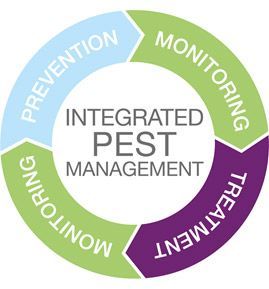 (click image to view larger)
Integrated Pest Management (IPM) is a process for eradicating pest issues while reducing risk to humans and the environment. It emphasizes long-term pest management by using a combination of treatment methods. It focuses on preventing and eradicating the invasion of pests in a way that minimizes harm to the environment and other organisms. The various approaches for increased effectiveness include:
Chemical control - This is the use of pesticides to control pests. Chemical control is only used when required. For example, using a seasonal rotation of pesticides with different modes of action to decrease the chances of pests developing an immunity to the active ingredient.
Physical and mechanical controls - These are tools that control pests by killing them directly, blocking them out and creating unsuitable environments for them. For example, using steel polymer in weep holes of a house to keep insects from entering the house.
Cultural controls - These are approaches that minimize the survival, dispersal, reproduction, and establishment of pests. For example, keeping food and drink out of all areas of a house except for the kitchen limiting the places that are attractive to insects.
Biological control - This is the use of natural enemies to control pest and their destruction. These natural enemies include competitors, pathogens, parasites, and predators. For example, using a bacterial agent in standing water to eliminate mosquito larvae before they develop into adults.

If you are interested in having an IPM quarterly pest control service at your home, check out the details of our service at https://backyardcomfortandpestcontrol.com/pest_control_plans.asp