Backyard Comfort Blog
How to Get Rid of Stored Product Pests (SPP) in a Home
12/7/2021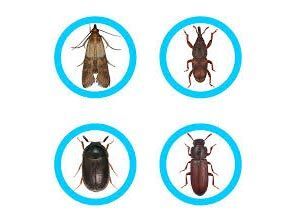 (click image to view larger)
What kind of insects are considered to be SPP?
Beetles - Red Flour Beetle, Lesser Grain Borer, Cigarette Beetle, Warehouse Beetle, Confused Flour Beetle and Cadelle Beetle
Moths – Indian Meal Moth, Angoumois Grain Moth and Mediterranean Flour Moth,
Weevils – Rice Weevil and Grain Weevil
Mites – Grain Mite
What should a homeowner to do prevent a population of SPP?
Keep kitchen and pantry clean (don't forget crumbs)
Deep clean around appliances (toasters and ovens)
Seal cracks and crevices to keep food from building up
Store pet food in temperature-controlled area (if it is kept in garage over a long period of time moisture can build up which can help SPP populate)
Keep doors and windows shut during day but especially at night since they are attracted to light
Transferring food products to sealable glass or plastic containers
Do not keep foods in storage after expiration dates
What should a homeowner to do get rid of an existing population of SPP?
Check food sources such as: spices, flour, grain, pasta, pet food, pet food bowls, bird seed, old rodent bait, dried flower arrangement, seasonal decorations using popcorn, dried fruit, dried nuts, bird seed that might have been brough into the walls of structure from outside by rodents, bird feeders, door wreaths, dried flower arrangements and house plants
Check these animal derived textiles where they will feed on the keratin (protein) found in wool, fur, feathers, silk, hair, horns, bird nest, taxidermy, upholstery and natural bristle brushes
If you cannot eliminate them then contact a pest professional who will have the skills and the tools to control the SPP. Having the pest controller do a one-time treatment with a guarantee should solve the problem or you can setup a regularly scheduled quarterly service as well.